Culture influences every level of an organisation and every stage of employment. It requires leaders to maintain a holistic and nuanced view of organisational behaviour. 
Successful companies understand the necessity to approach their culture with proactive (not reactive) methods. CultureScope applies workforce science and predictive analytics to provide actionable behavioural insights to improve your business performance and reduce risk. It connects all people metrics to provide Boards, CEOs and Leadership with actionable insights into individual and organisational behaviours.
Speak to an expert

CultureScope Assessment Steps
Changing corporate culture is daunting for any organisation, however, the ability to drive transformational change is a key source of competi­­­tive advantage. As McKinsey's 2017 report suggests, "One in three change programmes fail". Achieving a significant shift in performance and organisational health requires businesses to move beyond structures, processes and systems to address individual and organisational behaviours.
If organisations are unable to see, describe or measure behaviours, it is hard to know if the culture is helping or harming the organisation. Truly understanding the culture and identifying the behaviours that do or do not support the strategic priorities can unlock the full potential of an organisation and its impact on the wider community.

Using a cloud-based platform, CultureScope measures organisational culture by analysing both individual and organisational behaviour across 15 critical behavioural dimensions.  Measuring these two aspects allows organisations to understand the gap between their current and desired culture and what behavioural changes are required to drive culture change.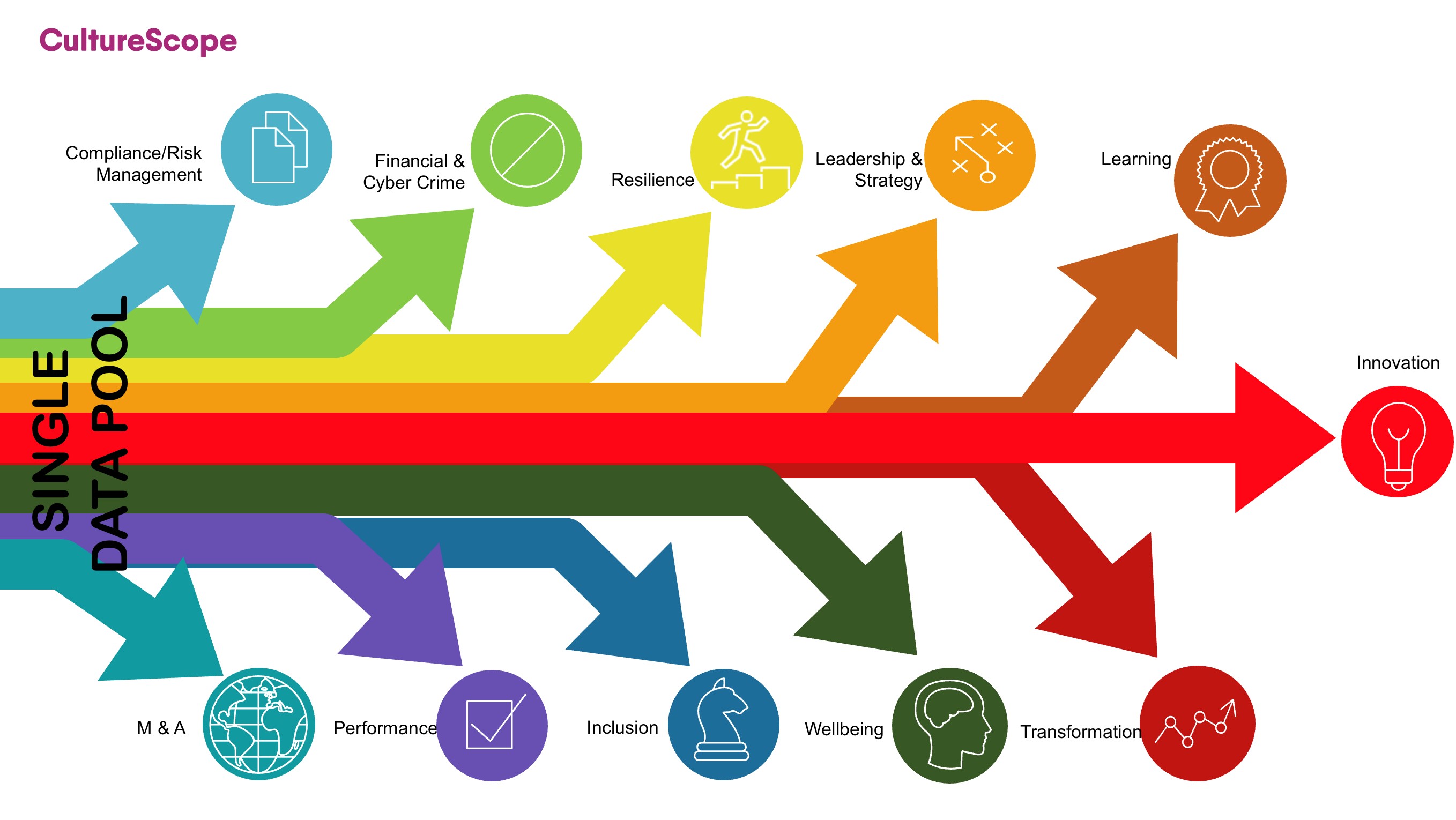 Speak to an expert
Culture represents the "unwritten rules" for how things really work in the organisation: it is the manifestation of the shared values, beliefs and hidden assumptions that shape how the individual and the organisation behaves. It is, in essence, the human glue that makes the company unique.
Culture has a powerful effect on organisational performance, helping to make or break even the most articulate business strategy or the most experienced leadership teams. A healthy culture can encourage customer satisfaction, growth, market leadership, digital transformation and innovation. Whilst a misaligned or toxic culture can weaken organisational performance, diminish customer loyalty, deflate employee engagement, increase risk and, in the worst case, even destroy the organisation.
Whilst improving employee engagement can be a powerful force for driving organisational performance, engagement tends to rise and fall quickly in response to transient business choices, which affect employee feelings. In simple terms, CultureScope measures individual and organisational behaviours (and not feelings / sentiment) and links these behaviours to business outcomes to generate predictive analytics.
CultureScope is an innovative and scientifically validated approach to behavioural and cultural measurement, based on a seven-year research study with over 51,000 participants, in 61 countries across 60 organisations and supported by 3 business schools.

Using the Culture Scope and Talent Scope tools to build a profile of 'what good looks like' in this early stage business has helped us take a lot of risk out of making initial critical hires and has become a cost effective ongoing decision support tool in recruitment. Hani has been great to work with; ever flexible which is very important as we find our way and so much preferable to the strait jacket imposed by some of the larger consultancies. Applying this level of science and rigour to the hiring process is a no-brainer in our book.

CEO

Internet of Things start up
Whilst we commissioned CultureScope for a specific research project, we quickly realised the wide-ranging impact and uses of the model and are now using it for everything from defining our strategy for diversity and inclusion to assessing how we measure and communicate our performance and values behaviours. CultureScope has provided HSBC with a powerful new lens with which to view every aspect of its culture.

HR Director

HSBC
TeamScope devised a brilliant day for us as an Executive Leadership Team. Hani in Paul's team is a veritable genius on team work and learning… and also at flying planes. The session absolutely met the brief we set. It was great for team work and genuinely the most memorable and impactful activity we have ever done. We learnt a lot about our strengths as a team (and as individuals), had fun and discovered just how quickly we can learn a new complex process and work together to deliver it. The debrief follow up session a few weeks later was really insightful too and perfectly timed. Would recommend it to anyone.

Chief People Officer

Metro Bank